'Nothing great in the world has ever been accomplished without passion'. – George Hegel
Shobi, a Post Graduate from Chennai, found her calling in the art of henna and bridal make-up niche. However, it was her friends and family who had her back during the teething troubles and encouraged her to find her feet in this niche. It has been quite a journey since 2013. She started this venture as a side hustle, alongside her master's. But things turned out just fine and Shobi is happy that her hard work has finally paid off.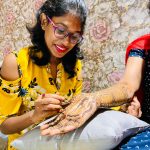 Shobi documents her work on Instagram which is, truly an eye-candy for all the brides-to-be. When asked about her passion she says 'I love to be creative and experiment with art, that keeps me going'. Shobi believes that 'as a mehndi artist, one must be passionate about their job and must be ready to go that extra mile to cater to the needs of the clients. The paramount focus should be on the quality of the service we provide. Once that's met, it is easy to form a loyal clientele. Well, what stood out to me while interviewing this supremely talented artist is unlike other artists who are likely to get sidetracked by the buzz of reach, numbers, likes, and insights, she leaves no stones unturned to make her client feel special on their big day. Today her clientele includes celebrities, dignitaries from the media and political fields, clients from other states, which certainly mirrors her talent.
Besides being a passionate henna artist, Shobi is a certified make-up artist as well. Very creative and enjoys experimenting with the looks according to the theme and occasion. She conducts master classes for make-up enthusiasts, nudges them to put in their best foot forward, shares her tips and tricks with her students. In hindsight, she recalls all along the journey wasn't a smooth sail. 'There were times when clients behaved indifferently or were not courteous enough. But, as the saying goes, when the going gets tough, the tough get going; with the abundance of support from my family and team, I surpassed tough moments like that.'
Perseverance, a positive mindset, unconditional support are the cornerstones to succeed in any venture. Being a SIWAA award recipient was certainly a milestone in her career. Shobi condemns artificial henna cones/ black henna that gives an instant colour upon the application. Instead, she sources organic ingredients like eucalyptus oil and henna from Surat and mixes them accordingly before the events. Hence, it is skin-friendly and safe to apply as well. So, folks in Chennai, do get in touch with her and book your slot to get all glammed up on your big day.
– Gayatri Anilkumar
To know more amazing Mehendi artists in your city, check out https://ohreally.in/listing-category/wedding/