Navratri in southern parts of India is synonymous with dolls or figurines of Gods/ Goddesses/ humans. Bommai Golu, Bommalu Koluvu, Bombe Habbe are different names to denote the dolls festival celebrated with fervour and gaiety in the southern states of India: Tamil Nadu, Karnataka, and Telangana. From unpacking umpteen sets of dolls to setting them up is quite fun and nostalgic. The pandemic might have cast a gloom over the grandeur of celebrations but has not dulled the vigour. However, keeping the pandemic in view, people are celebrating in their little ways with the help of a digital medium.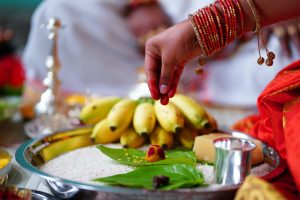 Traditionally, the golu dolls are passed on as an heirloom from one generation to another. The prep starts with the most amusing aspect of Navratri- growing grass. Seeds such as mustard, ragi, sesame are sown on the first day of Navratri alongside the main padi. Once the grass is lush green, the figurines of animals are placed to simulate either a garden or a zoo. Further, a clay pond with flowers and a fountain; is created to add more life and vigour. To complement the landscape, one could further place the figurines of mandapam: comprising idols of the temple, priest, devotes, flowers; marriage: comprising bride and groom, of people playing the musical instruments, or one could even create a scenario of mela (carnival) or kids playing cricket on the street with friends (more like a gully cricket). To add aesthetic value, one could use colourful satin ribbons, thermocol sheets, mirrors, fairy lights, stickers of rangoli to adorn the space.
Navratri reinforces the idea of cosmic justice: good over evil. Hence, through a display of dolls, this message is put forth and is celebrated with greater zeal. When it comes to dolls, there are gazillion ways to set them and revere them. From the dainty to the humongous ones are unpacked, dusted, and placed on the padi. There are different kinds of dolls. To start with:  wooden figurines of a man and a woman – Marapachi Bommai which is integral to a bride's trousseau, symbolizes prosperity and fertility. Followed; by Chettiar, bommai set: a couple who represents the trader community. Is golu even complete without the thalaiyatti bommai/ bobblehead figurine? It reflects the craftsmanship of Tanjore. Traditionally, the dolls are made using terracotta and clay. The movements and the vibrance make the figurines; look exquisite and stand out from other dolls. Dolls are made in different colours, sizes, and lengths to represent various dance forms like Bharathanatyam, Kathakali, Manipuri. Further, Hindu mythological characters are placed and revered for nine days, like Dasavataram, Navadurga, Asta Lakshmi, Kamadhenu, and the list is endless.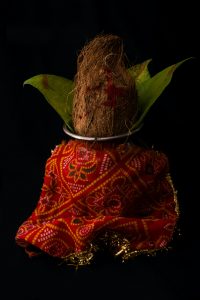 Dolls are conventionally displayed; on golu padi. The steps are often set in odd numbers. However, you could use either a bookshelf or DIY a mini carton stands for the purpose. The figurines of Gods/ Goddesses; are placed on the top tier, and garlands are offered daily. While figurines – Chettiar set, thalaiyatti bommai are placed at the lower rung. It's customary to add a new doll to the existing collection. Mylapore, being the hub of golu dolls and golu accessories, one can shop around and have a gala time. So, folks at Chennai do visit and enjoy the festive ambience.
'The purpose of human life is to serve and to show compassion and the will to help others'– Albert Schweitzer. Let's stand in solidarity with people who run a small business and be the reason for their smile. It's time we respect and appreciate their efforts.