Hey! You lovelies. It's that time of the year when you eagerly wait for the flavorful sundal to snack on cooked with love and immense reverence. The time; when the beautiful dolls are unpacked, decked up on the golu padis aka golu stand, people are occupied with pandal hopping and gollu shopping. Yes, you guessed it right! Navaratri is right around the corner. Certainly, an occasion to give in and relish the delectable sweets and sundals. Navaratri is a Sanskrit word meaning nine nights. The festival is observed for nine nights with fervour and zeal, praising the divine feminine. People sing hymns, dance reinforcing the idea of 'good over evil' with at most devotion. Navaratri celebrations in India are diverse yet so compelling.
Let's dive into the significance of this festival. Each day is devoted to a specific form of the divine feminine. For the first three days, Goddess Durga; is revered. Followed; by Goddess Lakshmi from day 4 to day 6, followed by Goddess Saraswathi from day 7 to day 9. However, it varies in the Northern states of India. At the outset, the altar placed at home is cleaned, the décor items and the golu dolls are unpacked, padi aka the gollu stand is neatly placed and set. This is done on a new moon day. The padi is generally placed in the east direction and the dolls are arranged accordingly. The doorways are adorned with mango leaf festoons, flowers, and diyas. Further, the golu kalash is placed, at the center of the padi, either on a banana leaf or a tray filled with raw rice. Make sure the utensil used for this purpose is of higher metal. The kalash is decorated with auspicious designs in turmeric and Kumkum on all four sides. The kalash is filled with pious elements like; green camphor powder and spices are added with water. A coconut smeared with turmeric is placed atop with mango leaves. Furthermore, a bejewelled face mould of the goddess with garland is placed.  Aesthetically pleasing kolams/ rangolis are drawn. This marks the start of the celebration of nine nights.
The guests are invited to either engage in bajans /devotional songs or dance. However, the bottom line is to have quality time with family and friends. Is golu even complete without the thamboolam aka the return gifts?? The most anticipated part of any golu hopping is hands-down the thamboolam, especially for the tiny tots. The hosts handpick the gifts and curate a personalized hamper for the guest list beforehand. It's indeed a festival, that's celebrated to restore peace and virtue.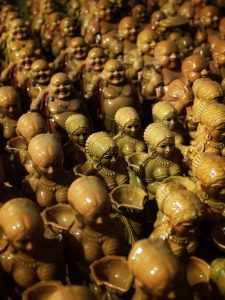 Stay tuned to read articles centred on the various aspects of Navaratri in the following days.
– Gayatri Anilkumar