The Visual Artist Who Communicates Through Photographs
The stage set by Natasha Thomas's portfolio bears witness to the nexus between innovation, creativity and passion. The 22-year-old visual artist from Chennai began her journey as a freelance photographer with her friends as subjects. She seasoned her expertise by taking up different projects including the role of a creative design intern at Sthala, a Mumbai-based fashion brand. At present, her clientele consists of small homegrown fashion brands for whom she doubles as a photographer and the creative mind behind styling their social media posts. She also develops designs, graphics and visuals catering to the requirements of her customers.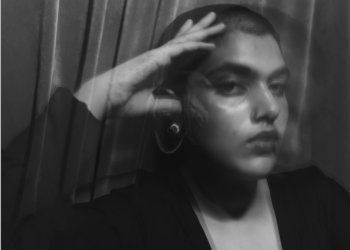 Endowed with a flair for art and photography, Natasha honed her skills as an artist from a young age. Her experience as a student of fashion designing at the National Institute of Fashion Technology in Chennai helped her discover an alternate path that would soon become her dream – photography. This dream marked the beginning of her entrepreneurial journey as a freelance visual artist. In her photographs, Natasha not only addresses several issues that plague society but also spreads awareness on the same. Her photo series titled 'Inclusivity Should Be the Norm' features subjects from various backgrounds, colour, body shape, size, weight and height, capturing the "raw essence and beauty of women." Her art weaves counternarratives in response to the heteronormative discourse on beauty standards, sexuality and queer identity. Some themes that her work is built on include mental health, gender neutrality, fashion, violence on women and LGBTQIA+ narratives. 'The Queer Hair Project' and 'This Is What We Look Like' are two of her series that are brilliant visual narrations of the stories of queer experiences, exploration, struggles and liberation. Her project, 'Better Safe Than Sorry?: Real Women, Real Stories. Real Issues.' is the raw portrayal of the fear that women experience while engaging in the nuances of their everyday lives. From physical and mental violence to incessant harassment on different levels, women are eternally trapped in the cage of victimhood. Through this photo series, Natasha calls out the systemic violence inflicted upon women. In the photographs, all the subjects wear helmets which represent the constant fear experienced by women as they engage in their everyday activities.
Being the mastermind behind an amalgamation of styles and themes, Natasha experiments with her ideas, deriving inspiration from her experiences and that of those around her. When asked about her journey of using art as a weapon to lend a voice to the marginalised communities, she acknowledges that her work escaped from becoming victims of discrimination and prejudice. She believes in the multiplicity of art which renders it as channels of both escape and communication. Through her photography, she shakes people out of their obliviousness and makes them aware of the issues at hand. Natasha says that a large part of her work is "based on lived experiences" which gives authenticity to her art and the causes that they represent.
The learning curve of this young entrepreneur was accelerated by the self-portraits that she took over the years. What started as a method of sharpening her skills soon became a medium of discovering and expressing herself. Natasha communicates with the world through her self-portraits which serve as a canvas for the integration of innovative makeup and unconventional elements. She says, "once the pandemic started, it (self-portraits) became my primary means of self-expression." Her Instagram handle @awkward_psychedelia is listed under Pride Guide – Part 2, a collection of queer and LGBTQIAP+ centric businesses and individuals, collated by Krishna K, a renowned musician and one of the loudest voices representing the LGBTQIAP+ community in India. Natasha also has a merchandise store on Frankly Wearing (natashathomas99), which sells printed clothes designed by her.
To know more amazing photographers around you, check out  https://ohreally.in/listing-category/photographer/